The winery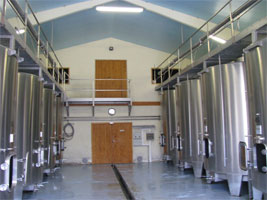 The Château de Cappes produces its wines in thermo-regulared stainless steel vats. Only the Cuvée Mordorée is made in new French oak barrels. The wine making process lasts about two and a half months, from the first pressings of the dry white wines to the end of the malolactic fermentation of the reds.
Our dry white wines undergo a cold maceration on the skins for 6 hours in order to amplify the aromatic extraction, the tannins and the colour. They are pressed in a horizontal wine press and fermented quickly so as to limit oxidization.
The grapes for our red wines our placed directly into the vats. The wine is pumped over daily in order to extract the aromas, tanins and colour. This operation consists of racking the must at the bottom of the vat onto the marc at the top with the help of a pump. The fermentation is followed by a 3 to 4 week vatting period after which the free run juice is removed from the vat and the marc extracted and pressed in order to obtain the press wine.
To make our rosé wines, either the red grapes are pressed immediately. The obtained juices (80% merlot, 20 % cabernet sauvignon) are blended and fermented before being rapidly bottled.
The botrytised grapes for the sweet whites, after being hand picked, are quickly pressed in a pneumatic press and the juice goes to fermentation.
Wine Storehouse
After fermentation, the dry white wine undergoes 3 weeks of maturation on the lees. This method results in a rounder, heavier wine with an aromatic complexity. The filtered wine is quickly bottled to retain a maximum of its aromas.
The red wines spend between 14 and 18 months in stainless steel vats before being bottled.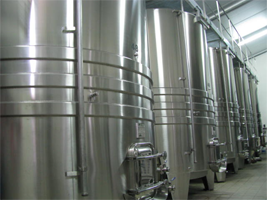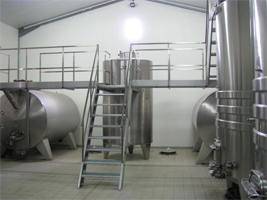 Barrel Storehouse
It is in this storehouse, built in 2011, that our finest vintages are developed. The earth floor under the barrels, covered in pebbles, favours a better exchange between the wine and the humidity in the air, just as in the most prestigious wine cellars.
Some of our red wines are matured in French oak barrels which have already contained a previous vintage, so that the oak does not overpower the wine. There should be a harmony between the flavour of the wine and the wood. The wine is kept in these barrels for between 12 and 14 months.
All our sweet whites are matured in French oak barrels. The Château de Cappes "liquoreux" is aged for 12 months in once used casks. Only the Cuvée Mordorée is matured in new barrels for 17 months.